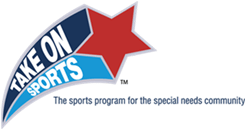 Take On Sports offers athletic opportunities for Special Needs Youth and Adults with physical and/or intellectual challenges.  We offer youth programs for ages 5-22 and adult programs for ages 23 and up. 
| Sport | Month Registration Opens | Season Dates |
| --- | --- | --- |
| Baseball | January/February | April 2 - May 21, 2023 |
| Soccer | April | June 27 - July 29, 2023 |
| Football | July | Sept 1- - Oct 15, 2023 |
| Basketball | August | Oct 14 - Nov 18, 2023 |
| Fitness | September | Dec 3, 10, 17, 2023 |
| Bowling | November | Jan 14 - Feb 25, 2024 |
Take On Sports endeavors to offer athletes with special needs an opportunity to participate in sports, learn new athletic skills, benefit from being a member of a team, experience being pushed beyond what the athlete thought possible, and to experience friendship and camaraderie that make sports enjoyable for everyone. We aim to do this in a safe environment, with buddy volunteers to help and encourage the athletes, and coaches who understand the special capabilities of the participants.
"When do I get to play"? In 2006, that one simple question proved to be the motivation behind Take On Sports. John and Gina Fisher's son wanted to know when he could play sports just like his brother. No organization existed to provide this basic outlet, so John and Gina set out to form a league where children like their's could play, participate, learn and develop lasting friendships...just like any kid who wants to play sports.
Today, more than 10 years after the organization's founding, Take On Sports serves over 280 families with youth and adults with physical and/or intellectual challenges. We have grown from one sport to offering six scheduled leagues plus a variety of activities throughout the year. Take On Sports coordinates hundreds of volunteers (buddies and coaches) to support our sports, remains self-funded, and continues to grow by adding new sports and activities that families and athletes want. Run by an all-volunteer board, we remain focused on providing sports and competition for youth and adults with physical and/or intellectual challenges.
While our athletic offerings expands and the organization works to improve communication, awareness, and safety all at the lowest possible cost, we remain motivated by, and focused on, answering the most basic question for our athletes: When do I get to play?